Aaahara – Food for the Senses – June 9th
Aaahara - Food for the Senses - June 9th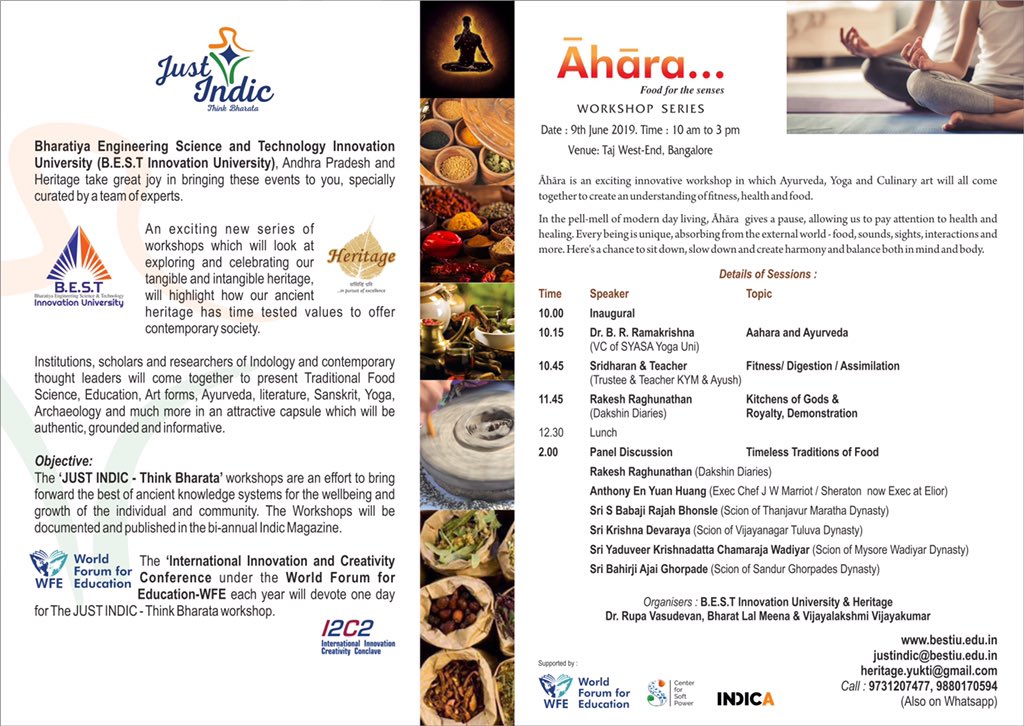 Aahara, a four-part series on Indian food will kickstart on June 9 at Bangalore, bringing to the fore Ayurveda's unique approach to the 'Meaning of life'. Awareness, Environment and Health, subjects that the West tends to consider separate and independent, but that are deeply connected in Ayurveda, will be the focus of this daylong event curated jointly by BEST University and the Center For Soft Power.
The cornerstone of Ayurveda is what modern science tries to analyze via genetics. In today's world there is a need to understand disease and pathology through individual and environment interactions which are in a dynamic equilibrium when they are healthy, and how imbalances in the homeostatic system cause illness. Ayurveda can provide a universal perspective to the nature of life, health, and even to cell and molecular biology.
Aahara will bring speakers from two very reputed Yoga institutes from India – Swami Vivekananda Yoga Anusandhana Samsthana (S-VYASA) and Krishnamachari Yoga Mandiram. Among most contemporary styles of yoga, several trace their roots back to Shri Krishnamachari, whose teachings remain the inspiration for thousands of yoga practitioners around the world. Asana, pranayama and dhyana - the tri-fold path of yoga, today ties India to everyone who has benefitted from its energy.
To add a touch of Royalty, Aahara will bring the descendants of the greatest of rulers of South India, whose kitchens were usually the labs where the richest and most nutritious foods of Indian were created. Royal physicians were usually also in charge of the Royal kitchens to ensure that the rulers were served the best of fare, ensuring longevity and health.
India's well known Sutradar of the Dakshin Dairies fame Rakesh Raghunathan will moderate a session with international chef Anthony En Yuan Huang, Sri Babaji Rja Bhonse Sri Babaji Raja Bhonsle (Scion of the Thanjavur Maratha Dynasty), Sri Krishna Devaraya (Scion of the Tuluva Dynasty of Vijaynagar), Sri Yaduveer Odeyar (Scion of the Mysore Odeyar Dynasty) and Sri Bahirji Ahir Ghorpade (Scion of the Sandur Ghorpade Dynasty).